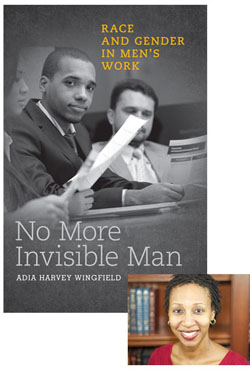 Check out GSU Sociology Professor Adia Harvey Wingfield's latest book examining the experiences of middle-class, professional black men:
Wingfield, A. H. (2013). No more invisible man: Race and gender in men's work. Philadelphia, PA: Temple University Press.
"No More Invisible Man chronicles these men's experiences as a tokenized minority in the workplace to show how issues of power and inequality exist—especially as they relate to promotion, mobility, and developing occupational networks. Wingfield's intersectional analysis deftly charts the ways that gender, race, and class collectively shape black professional men's work experiences.  In its examination of men's interactions with women and other men, as well as men's performances of masculinity and their emotional demeanors in these jobs, No More Invisible Man extends our understanding of racial- and gender-based dynamics in professional work" (Temple University Press, 2013, para. 3).
Reference:
Temple University Press. (2013). No more invisible man [publisher's description]. Retrieved from http://www.temple.edu/tempress/titles/2249_reg.html