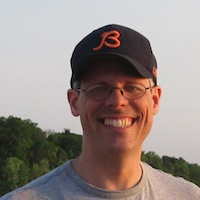 Dr. Daniel Block of Chicago State University will give a talk on "Community Geography, Food Deserts, and the Power of Maps" on Tuesday, February 19 at 4:30 pm in the Petit Science Center, room 124.
Dr. Block is a professor of geography at Chicago State University and is the director of the Fred Blum Neighborhood Assistance Center.  His research interests include inner-city food access issues.  A selection of Dr. Block's publications can be accessed through the University Library:
Daniel, R. B., Thompson, M., Euken, J., Liquori, T., Fear, F., & Baldwin, S. (2008). Engagement for transformation: Value webs for local food system development. Agriculture and Human Values, 25(3), 379-388.
Dr. Block's talk is sponsored by Gamma Theta Upsilon, the Department of Geosciences, Geosciences Club, the Community-Soil-Air-Water Initiative, the Honors College, the Office of Civic Engagement, and the Institute of Public Health.