Georgia State's researchers publish great articles. But the journals they appear in cost thousands of dollars a year, limiting the number of people who can read their work. Open Access Week is an opportunity for GSU's academic and research community to learn about the benefits of open access publishing.
From October 24th to October 30th, Georgia State University is celebrating Open Access Week with a series of workshops hosted at the library.
What is open access? According to The Budapest Open Access Initiative:
"By open access, we mean its immediate, free availability on the public internet, permitting any users to read, download, copy, distribute, print, search or link to the full text of these articles, crawl them for indexing, pass them as data to software or use them for any other lawful purpose…"
Provost Risa Palm has written the following letter, announcing Georgia State's participation in Open Access Week. (To see the full size letter, click on the image).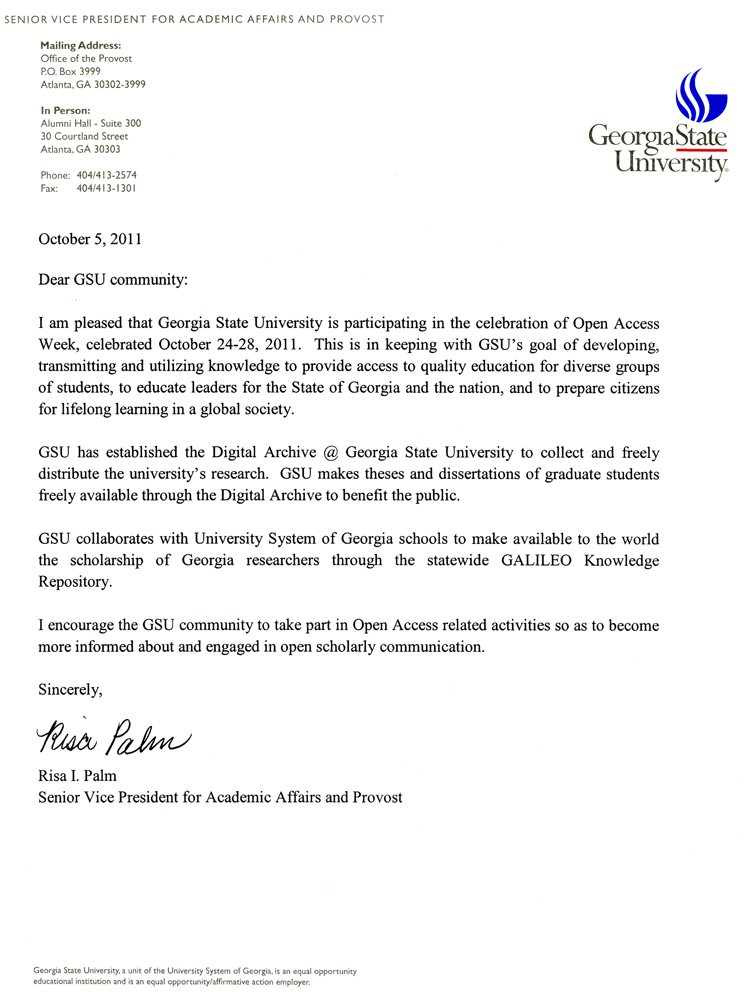 Georgia State University Library is offering the following workshops to help researchers publish their work through The Digital Archive @ Georgia State University, and understand their copyrights..
Monday October 24, 2011, 
1:00pm – 1:30pm, Library Classroom 1
Greater Reach for Your Research: The Digital Archive, Open Access & You, Hosted by Amy Elliott, Digital Repository Services Librarian
Tuesday October 25, 2011,
11:00 am – 11:30 am, Library Classroom 1
Greater Reach for Your Research: The Digital Archive, Open Access & You, Hosted by Amy Elliott, Digital Repository Services Librarian
Wednesday October 26, 2011,
11:00 am – 12:00 pm, Library Classroom 1
Copyright Transfers: Advocate for Your Rights as Authors
Hosted by Gwen Spratt, GSU Legal Counsel
Thursday October 27, 2011,
2:00 pm – 3:00 pm, Library Classroom 1
Copyright Transfers: Advocate for Your Rights as Authors
Hosted by Gwen Spratt, GSU Legal Counsel