2010 Journal Citation Reports now available
Journal Citation Reports (JCR) , a journal evaluation database, has just been updated with 2010 data.   GSU subscription access to JCR is available from 2004-2010 and is published annually in 2 editions: Sciences and Social Sciences.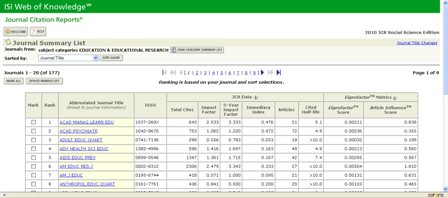 JCR evaluates journals using citation data drawn from over 11,000 scholarly and technical journals from more than 3,300 publishers in over 80 countries.
Use JCR to determine…
the most frequently cited journals in a field
the highest impact journals in a field
the largest journals in a field
data for specific journals