Undergraduate Research Award Winners!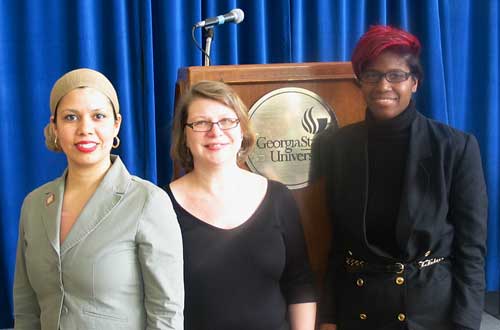 On March 16, the winners of the 2011 University Library Undergraduate Research Awards presented their research at the GSU Undergraduate Research Conference.
The award recognizes Georgia State University undergraduates who demonstrate skill and creativity in the application of library information resources for research papers/projects completed in fulfillment of a course requirement. Both papers are posted in the Digital Archive @ Georgia State University.
First prize: Imani N. Mandela. "Rape Attribution for African-American Students." Honors AAS 4980. Advisor: Jonathan Gayles
According to one faculty reviewer, Ms Mandela's paper is:
…an excellent example of high-quality undergraduate writing
supported in equal measure by a thorough library-based literature survey and a careful statistical approach for addressing a well-defined research question.
Runner up: Pamela Flores. "Alonzo and Norris Herndon: The Herndon Men Defining Masculinity by Challenging Societal Norms." HIST 4990. Advisor: Joseph Perry
According to Bryan Sinclair, Associate University Librarian for Public Services:
The faculty reviewers admired the unique perspective and ambitious scope of her project, as well as the wealth of primary and secondary sources from which Ms. Flores drew – historical newspaper articles, archival records at the Auburn Avenue Research Library, microfilm in the GSU Library, and access to historic sites in Atlanta.
Remember undergrads, it's never too early to start thinking about submitting for next year's awards!