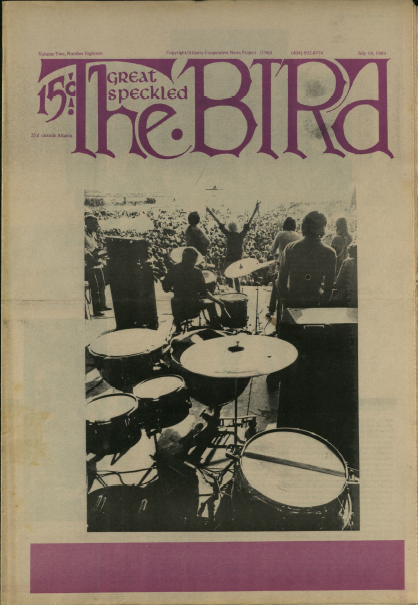 History Department professor John McMillian's new book Smoking Typewriters: The Sixties Underground Press and the Rise of Alternative Media in America has just arrived in the library. Focusing on underground and alternative publishing in the 1960s, Smoking Typewriters tells the story of how young people in the 1960s used increasingly inexpensive print technologies to create a network of papers, modeled on such underground papers as the Los Angeles Free Press, the East Village Other, and the Berkeley Barb, that helped shape the New Left's democratic "movement culture."
The GSU Library's Special Collections has recently unveiled a digital edition of Atlanta's own countercultural newspaper, The Great Speckled Bird (1968-1976) now available for viewing.
We also have access to other underground, alternative, and countercultural publications from the 1960s and 1970s, including:
The Southern Courier, civil rights newspaper published in Alabama
Creative Loafing (Atlanta), from 1974-present
Check the library catalog for more works on the underground press.
The Left Index database is a useful resource for researching the history and development of the political, social and cultural scholarship of the left. Topics include labor, environment, civil rights, art and philosophy of the movement.
For more information about these resources, contact History Librarian Jill Anderson or Communication Librarian Jason Puckett.