"Yo, It's a Time Machine!"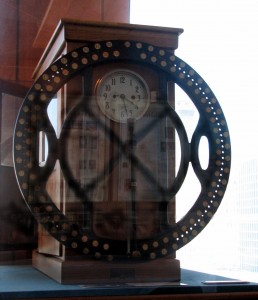 Investigating an unknown cultural object can be a fascinating way to teach research and critical thinking skills—and to learn about unfamiliar times and places.
The startled student who unexpectedly discovered this "time machine" encountered one of the largest artifacts in the Library's Special Collections & Archives Department.  From banners, bells, and basketballs to pianos, trophies, tea sets, and even condoms, Special Collections is the home for a variety of cultural artifacts.  All of them have a particular significance to the organization or individual that created or used them.  If you are curious and imaginative, this "cultural evidence" is waiting for you.
Back to the "time machine."  It sat in a dark corner for years, and I walked past it every day going to my desk.  Until the day I stubbed my toe on it, and I noticed the words:  "International Time Recording Company of Endicott, NY."  The rival village to my hometown!  And the company?  IBM.
Having been raised in an area overrun with "IBMers," I knew that the company started out manufacturing time clocks.  Upon further investigation, I found a plate with a serial number.  On the IBM website, I traced the serial number and discovered this model was manufactured in 1929.  Additional research revealed this was a weekly dial recorder with a two-color record for 100 employees, and that the invention of the time clock had certain benefits (and disadvantages) for both employers and employees.
You too can make startling discoveries on the 8th floor of Library South.  Do you want to be transported to another time and place?  Come on up and visit us sometime!