Popular Music Tune-Dex Cards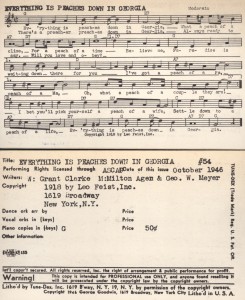 The Special Collections and Archives recently cataloged a collection of approximately 9,000 Tune-Dex cards from the WSB Radio Records.  You can refer to our catalog to review our holdings..
Similar to lead sheets, Tune-Dex cards are 3×5 index cards that consist of the essential elements of popular songs — main melody, chord symbols and lyrics.  The cards also contain other relevant information such as composer, publisher, licensing and copyright information.
George Goodwin, a radio station program director, first published the cards in 1942 and continued publication until 1963.  The creation of the cards grew out of Goodwin's need to have a reference source when selecting music for radio programs.  The cards were also marketed to musicians as a tool to aid in remembering songs for performance.   As a result, the cards later morphed into the widely used "fake books" of today, which are basically bound volumes of lead sheets.
Questions about the music collection in the Special Collections and Archives should be directed to Kevin Fleming, archivist, Popular Music and Culture Collection, at 404-413-2880 or archives@gsu.edu.