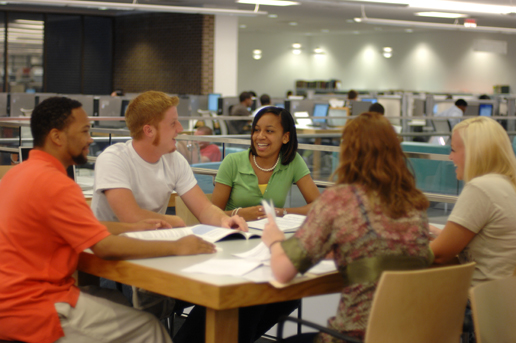 Please participate in a short survey about how library patrons prefer their learning spaces.
Recently, we at the Georgia State University Library have noticed clusters of students huddled around single computer workstations, uncomfortably attempting to collaborate on group assignments. Other times, we have found such groups sitting on the floors, sometimes near the bathrooms in Library South. These patrons are collaborating on projects, but they can't find a space that suits their learning needs.
Georgia State University students are a busy population. When they're not in class, they're probably either working or commuting. These students need to get the most out of their time here at the library. They need spaces that help them learn efficiently and get work done, whether they're preparing a group project, studying, writing a paper or practicing a presentation.
To meet these needs better, the University Library is surveying our patrons to discover how they prefer their learning spaces. To take part in the study, you must be at least 18 years old and a Georgia State student or faculty member. Participation takes only 10 minutes. Please click here to participate.