Four Nursing Professors Published Article on the Evaluation of Factors that Reduce Stroke Survivors' Health-Related Quality of Life
Lewis School of Nursing professors Jennifer Klinedinst, Mary Gebhardt, Dawn Aycock and Patricia C. Clark have published an article on evaluating factors that reduce stroke survivors' health-related quality of life.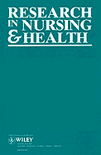 Their article Caregiver characteristics predict stroke survivor quality of life at 4 months and 1 year was published in Research in Nursing & Health.
Evaluating factors that reduce stroke survivors' (SS) health-related quality of life (HRQOL) is important for developing interventions to improve HRQOL after stroke. The influence of baseline caregiver and family characteristics (physical health, depressive symptoms, family communication) on five domains of SS HRQOL (physical function, memory/thinking, social activities, communication, and mood) was examined. Data were collected on 132 SS-caregiver dyads at baseline, 4 months, and 12 months. Baseline caregiver depressive symptoms predicted lower scores for SS physical function and communication at 4 months and social participation and mood at 12 months. Male caregiver gender was negatively associated with SS HRQOL (communication and mood) at 12 months. Early intervention targeting these family characteristics, especially caregiver depressive symptoms, may improve survivors' HRQOL.
This article is available online via GIL, our online catalog.