L. Douglas Wilder Speaks At GSU on January 19th, 2010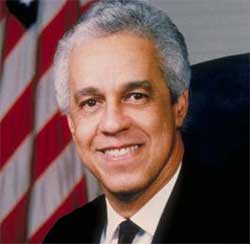 Originally barred from Virginia's law schools because of his race,  L. Douglas Wilder later became the first African-American governor elected in U.S. history – and it was in Virginia,  in 1989, that this grandson of slaves made history. On Tuesday, January 19 at 4:00pm, Wilder will speak in the Student Center Ballroom as a part of the campus' Martin Luther King Commemorative Week.
The Georgia State University Library has a number of excellent resources if you are interested in learning more about Wilder or other African-Americans in politics.
These resources provide more information about about L. Douglas Wilder and his landmark role in recent history, and why he is part of this informative campus event sponsored by Student Affairs.