Are you interested in the social and economic history of early modern South Asia?  If so, you might want to take a look at Dr. Ghulam Nadri's recent book, Eighteenth-Century Gujarat: The Dynamics of Its Political Economy, 1750-1800.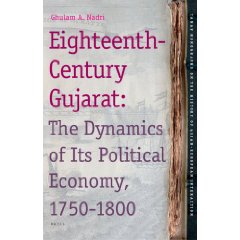 This book focuses on the merchants and manufactures of Gujarat (western India) in the eighteenth century.  Despite complex political developments, these merchants maintained their freedom in the marketplace.
Dr. Nadri is a member of GSU's History Department.  He specializes in the history of early modern Gujarat and how it relates to the larger framework of South Asian and the Indian Ocean world history.  He has also published a number of articles relating to merchants and trade in early modern Gujarat.