Criminal Justice Faculty Member Publishes Article in "Justice Quarterly"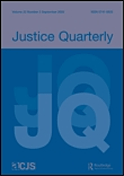 Dr. Dean A. Dabney, GSU Associate Professor of Criminal Justice and GSU Faculty Associate of the Institute of Public Health published "Observations Regarding Key Operational Realities in a Compstat Model of Policing" in the Feb. 2010 issue of Justice Quarterly.
Dr. Dabney's article can be accessed through the Library in the journal Justice Quarterly.
Did you know that Dr. Dabney is also the editor of Criminal Justice Review and International Criminal Justice Review?