Georgia State University Library Hosts Georgia Archives Students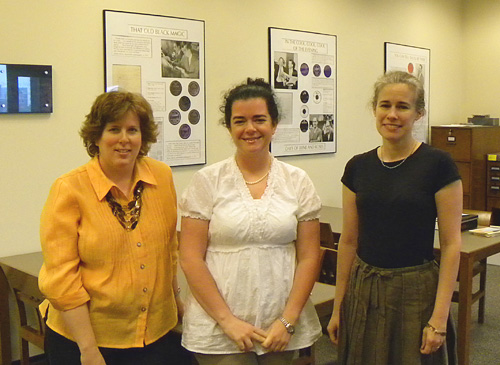 Every year, the Georgia State University Library participates in an important program that meets the needs of beginning archivists and students, as well as manuscript curators and librarians who require professional development. From June 16 – June 18 the library's Special Collections department hosted several students from the Georgia Archives Institute. These students receive hands on experience and were guided through a practice project working on a small collection.
The Georgia Archives Institute, co-sponsored by the Georgia Archives, the Society of Georgia Archivists and Auburn Avenue Research Library, has provided an annual, intensive course in archival practice since 1967.  It provides a training ground for students to get a crash course in archival work. This begins with a weeklong intensive classroom experience. Following that, a half-dozen diverse Georgia institutions, including the Georgia State University Library, host students to provide them practical experience in an archive. The entire program serves as an introductory course for students and beginners, and as professional development for librarians, curators and others who work with historical material.
The Georgia State University Library has participated in the program for over twenty-years and a number of Special Collections department staff members are graduates. "The hands on experience is invaluable, "said Jill Sweetapple, one of the participants. Sweetapple is an intern at the Georgia Archives who is finishing her M.L.I.S. from Florida State University, "The first week of class was great, but until you start doing it… it was very theoretical." Sweetapple was joined by Emily Erwin, University Archivist at Delta State University in Cleveland, Mississippi, as well as Janet DeForest, Coordinator of Research Information Services at The Carter Center in Atlanta. "I can't imagine any place where you walk in the door and can start handling everything," said Deforest, "You can see how it works and ask questions."
These participants worked in the archives for three-days, getting practical know-how from Georgia State's experienced archivists. The library participates in this excellent professional development opportunity every year, so if you're interested in participating you can find more information about the program here.