New Resource: SAGE Research Methods
We are very excited to announce a newly available digital resource: SAGE Research Methods (SRM). SRM is an amazing tool for GSU students, faculty and staff who are learning or teaching research methods and those who are conducting research across social science fields. SRM includes:
a library of more than 1000 books, reference works, journal articles
instructional videos by leading researchers
the "largest collection of qualitative methods books available online from any scholarly publisher."
a repository of research case studies and datasets that can be used in the classroom or for self-guided learning.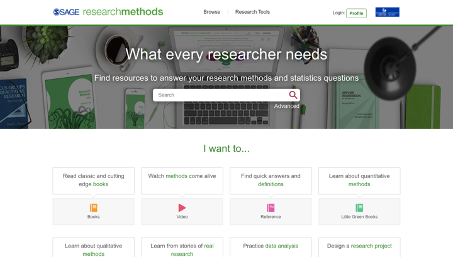 Looking for insight into quantitative methods? SRM has the "Little Green Book" from SAGE's Quantitative Applications in the Social Sciences series — full-text copies of the nearly 200 books in the series, which retail at $20 each, allowing students to save money on textbooks.
Looking for insight into qualitative methods? SAGE offers a "Little Blue Book" series with titles like Feminist Fieldwork Analysis.
Doing independent research and need a little support? SRM offers a Project Planner tool to help you design your project, as well as SRM Experiments, a site that allows you to conduct social sciences experiments, collect and even analyze data online.
From undergraduate students new to statistical methods (and their instructors), to experienced researchers looking to strengthen advanced methodological skills, SRM offers a resource that can help.