Special Collections 50th Anniversary Kicks Off with Digital Exhibit and Community Panel!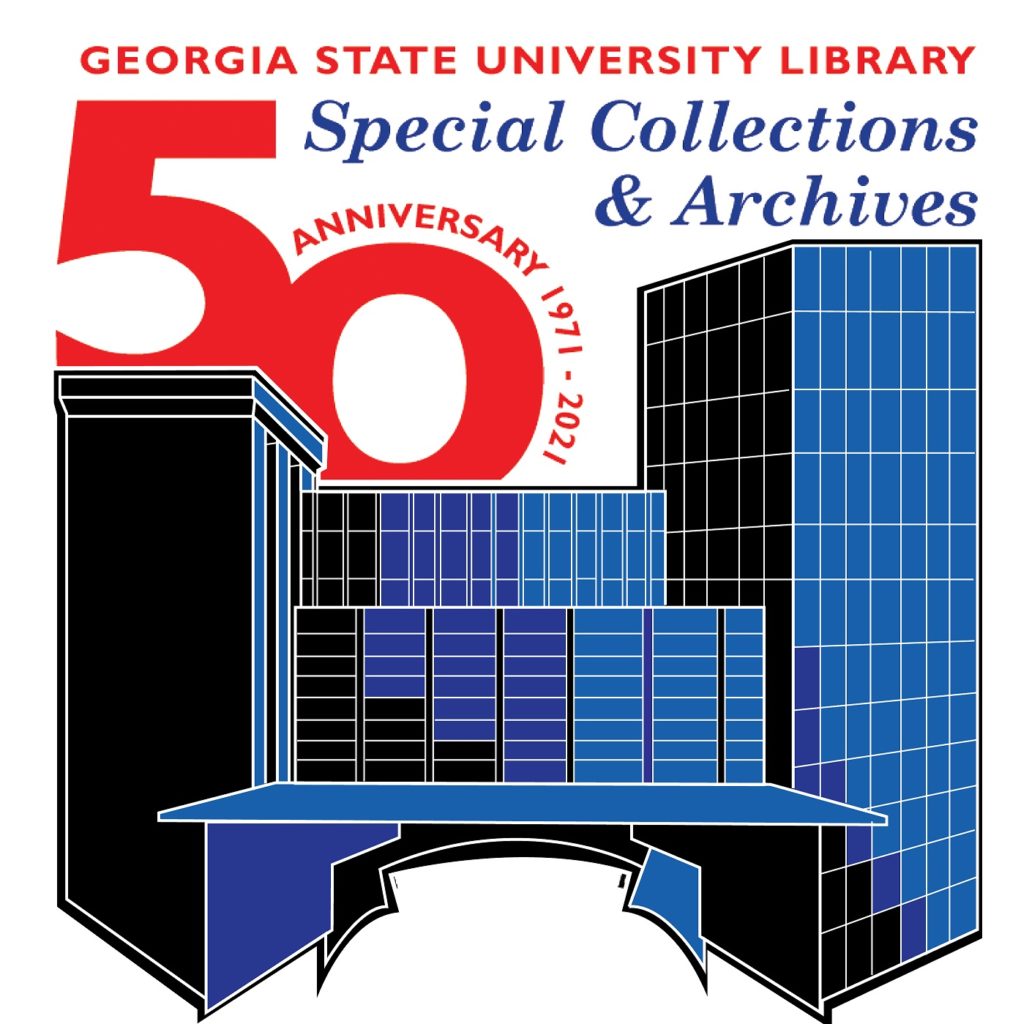 It's exciting to begin our 50th anniversary celebrations by launching our latest exhibit "Bridging Communities: 50 Years of Collecting at GSU." This exhibit features just a few stories from our collections that highlight key themes across our nine collecting areas. We look forward to opening the physical exhibit later this year when it is safe to re-open our exhibit gallery to the public.
Since we could not have a public opening, I am delighted to share this compelling Zoom conversation with six of our remarkable community partners and donors. In this conversation, I asked why archives are important to these donors and their communities. The conversation that followed touched on a wide range of urgent questions, such as: why are immigrant stories important? What happens to the stories of all those lives cut short by AIDS? How do we document the brave women activists from rural Georgia who sacrificed so much with little notice from national or urban media outlets? I found this conversation to be genuinely affecting and am grateful to the panelists for their time and thoughtful responses. I hope you'll take the time to watch this panel to see the vital work our partners are doing in and around Atlanta!
Over the past year, we have been interviewing previous archivists at GSU in preparation for our 50th anniversary. When asked their favorite part of working at GSU, most archivists responded that working with community partners was the most fulfilling part of their jobs. There are amazing people behind each of the millions of objects, images, manuscripts, films, and more in our nine collecting areas. We, in Special Collections, are genuinely honored by the trust these individuals and communities have given to us to preserve their stories and make them available to a world-wide audience.
Panelists:
Franklin Abbott: Long term community activist in the LGBTQ+ community as well as our first donor to our Gender and Sexuality Collections.
Tyson Deal: Curator of her father Steve Deal's expansive photographic collection from his work as photographer for the AJC. We have not processed this collection yet, but you can see some of Mr. Deal's wonderful photos on our Digital Collections website.
Lucy Draper: founding mother of our Women's Collections and the Lucy Hargrett Draper Collections on Women's Rights, Advocacy and the Law.
Lily Pabian: Executive Director of We Love BuHI.
Bob Scarr: founding archivist for the Atlanta Symphony Orchestra.
Judith Thompson: CEO of the South Carolina Nurses Association.