Atlanta Symphony Orchestra Collection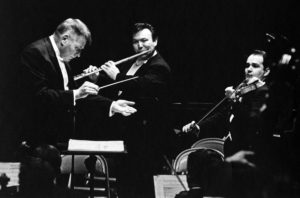 Georgia State University Library's Special Collection and Archives have acquired the records of the Atlanta Symphony Orchestra.  The collection documents the rich history of the organization since its founding in 1945, to its current day activities.
The collection consists of materials related to the founding, operation, and governance of the Atlanta Symphony Orchestra and encompasses a wide range of formats including manuscripts, administrative records, scrapbooks, press clippings, concert programs, photographs, oral history interviews, performance sound recordings and videos.
"I'm thrilled the Atlanta Symphony Orchestra has decided to entrust Georgia State University with its records. This vast collection of materials will serve as an invaluable resource for our students." – Dr. Wade Weast, Dean of the College of the Arts
The collection of materials will be preserved and made available for educational and research purposes. They will be accessible to the Georgia State University community, visiting researchers, and the general public.  In addition to the making the collection accessible within the Special Collections and Archives, the library will also digitize appropriate materials and make them available online.
About the Georgia State University Library's Special Collections and Archives
Georgia State University Library's Special Collections and Archives supports the educational, research, and institutional needs of the University by collecting and preserving unique historical materials that connect the GSU community, scholars, and the public to the human experience. By engaging diverse communities and promoting access to its collections through digitization, instruction, and outreach, the department inspires creative expression, encourages student learning and success, and facilitates informed dialog.
About the Atlanta Symphony Orchestra
Celebrating its 73rd season, the Atlanta Symphony Orchestra continues to affirm its position as one of America's leading orchestras with excellent live performances, renowned guest artist features and engaging education initiatives. As a cornerstone for artistic development in the Southeast, the Atlanta Symphony Orchestra performs a full schedule of more than 150 concerts, including educational and community concerts, each year for a combined audience of more than half a million.
Questions about this collection should be directed to Kevin Fleming, archivist, Popular Music and Culture Collection, at 404-413-2880 or archives@gsu.edu.