The Library's Early College Summer Program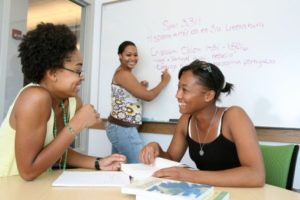 Early College is a four-week program that gives students both social and academic skills that they will need to succeed in college. Early College Summer program students take college-level math, English and sciences classes. They also participate in four library workshops where  they will learn how to navigate the vast resources of GSU's research library. Denise Dimsdale, Education Librarian, coordinates the library program for Early College. The four library sessions will teach students:
How to evaluate print and online resources
How to avoid plagiarism with proper citations and paraphrasing
How to find resources using the online catalog and online databases
The first sessions were held on June 7th and will continue on June 8 – 15 with Group 1 meeting from 12:40pm to to 1:40pm and Group 2 meeting from 1:50pm to 2:50pm. All sessions will be held in Classroom 1.
The Early College Research guide will be used to instruct students. The library has other research guides to assist new students adjust to campus and research life.