Religion & Public Life Event
The D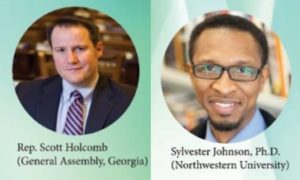 epartment of Religious Studies will present its 2017 Religion & Public Life Event on the topic of Religion, Race, & Reconciliation: Overcoming Social Polarization in the Current Political Climate on Tuesday. The event will be a moderated Discussion with Sylvester Johnson, Ph.D. (Northwestern University) and Rep. Scott Holcomb (General Assembly, Georgia).
Event description: The polarization of American society in both formal politics as well as in cultural life is reaching a new threshold of animosity and antagonism. With Georgia as an overwhelming conservative state and Atlanta as an overwhelming liberal city, our local communities are particularly affected by the contemporary state of affairs. However, Atlanta has also served as a national model of reconciliation and progress despite overwhelming odds. In the spirit of routing our current impasse, this panel hopes to unpack the historical precedents that have led to the current polarization in our body-politic and identify practical solutions that can lead to a mitigation of that tension.
Date and Time: March 7 at 5:00 PM; Reception at 4:30.
Location: The Lobby of the Rialto Center for the Arts, 80 Forsyth St. NW, Atlanta.
Recent publications by Dr. Johnson include:
African American Religions, 1500-2000: Colonialism, Democracy and Freedom. Cambridge: Cambridge University Press, 2015.
"The Rise of Black Ethnics: African American Religions and the Ethnic Turn, 1916-1945" Religion and American Culture 20 (2010): 125-163.
"The Bible, Slavery, and the Problem of Authority," in Beyond Slavery: Overcoming Its Religious and Sexual Legacies. Edited by Bernadette Brooten. New York: Palgrave Macmillan, 2010.
"The Black Church," in The Companion to Religion in America. Edited by Philip Goff. Oxford: Blackwell Publishing, 2010.
"Colonialism, Biblical World-Making, and Temporalities in Olaudah Equiano's Interesting Narrative," Church History 77 (2008): 1003-1024.
"Religion Proper and Proper Religion : Arthur Fauset and the Study of African American Religions," in The New Black Gods : Arthur Huff Fauset and the study of African American Religions. Edited by Edward Curtis IV and Danielle Sigler. Bloomington: Indiana University Press, 2009.
"New Israel, New Canaan: The Bible, the People of God, and the American Holocaust," Union Seminary Quarterly Review 59, nos. 1-2 (2005): 25-39.
The Myth of Ham in Nineteenth-Century American Christianity: Race, Heathens, and the People of God. New York: Palgrave Macmillan, 2004.