Workshop: Mapping US Urban Demographics with Social Explorer
Want to use maps to visualize demographic data but afraid it's too hard to learn? Come to this workshop to see just how easy it is!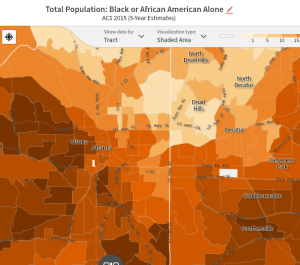 Starting with this short New York Times article about urban poverty – "Sparkling and Blighted, Convention Cities Spotlight Ignored Urban Issues", Joe Hurley, our Data Services and GIS Librarian, will demonstrate how to use Social Explorer to map the current and historical demographic statistics references in the article. This will be followed by a demonstration of mapping inequality and race in Atlanta and a brief discussion of how Social Explorer's demographic data mapping features can be used for both teaching and research.
Dates:
Tuesday, March 21, 2017, 2:00pm – 3:00pm, CURVE (Library South 2nd floor) – REGISTER HERE
Questions? Ask Joe Hurley.
Learn more about upcoming data-related workshops and the Library's other data services & support offerings here!