Faculty Research: The Changing Face of Atlanta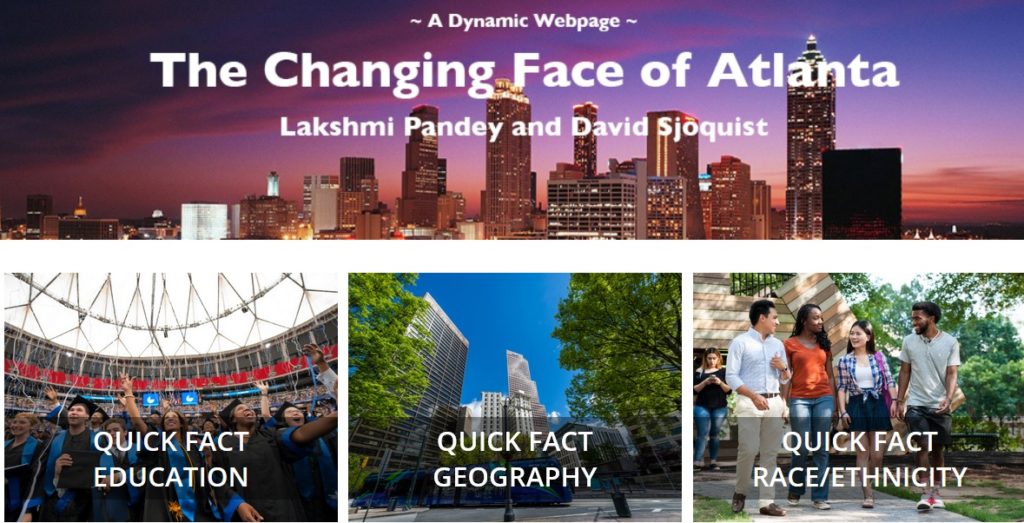 More than 5.7 million people call metro Atlanta home — that's a more than 300 percent increase over the past 45 years. Specifically, the Atlanta MSA has morphed from just five counties to 29, sprawling across 8,376 square miles (an area nearly the size of New Jersey).
But, it is perhaps metro Atlanta's evolving and increasingly diverse population that most strikingly shows the dramatic transformation since 1970.
"The racial composition has changed so dramatically — it's really stark," says David Sjoquist, professor of economics at the Andrew Young School of Policy Studies. Sjoquist and Lakshmi Pandey, a senior research associate at the Center for State and Local Finance, recently examined these trends in new research, "The Changing Face of Atlanta."
Illustrated with a dynamic webpage, in a series of 70 maps and additional charts, the researchers document the changes in race, age, income and education for the metro-Atlanta area from 1970-2015. See the changing face of Atlanta for yourself.
Other works by Pandey and Sjoquist:
Alm, James, Sjoquist, David L. "Foreclosures and Local Government Revenues from the Property Tax: The Case of Georgia School Districts." Regional Science and Urban Economics, vol. 46, 01 May 2014, pp. 1-11.
Geller, Chris, Sjoquist, David L. Atlanta in Black and White: Racial Attitudes and Perspectives. Research Atlanta (Firm); Georgia State University. Policy Research Center, n.d.
Pandey, Lakshmi, et al. "An Analysis of Private School Closings." Education Finance and Policy, vol. 4, no. 1, 01 Dec. 2009, pp. 34-59.
Sjoquist, David L. and Lakshmi Pandey. "An Analysis of Acquisition Value Property Tax Assessment for Homesteaded Property." Public Budgeting & Finance, vol. 21, no. 4, Dec. 2001, p. 1.
Sjoquist, David L. Past Trends and Future Prospects of the American City: The Dynamics of Atlanta. Lanham: Lexington Books, 2009.