Holding Blackness in Suspension: Film Screening + Symposium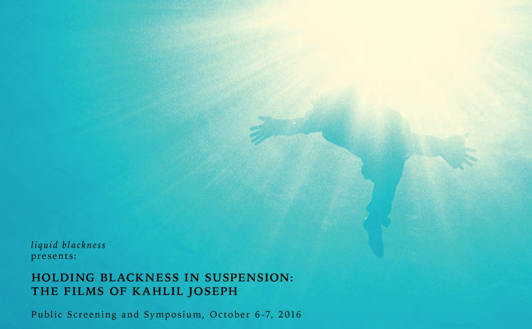 Georgia State's liquid blackness project, together with partners from Emory and GA Tech, are hosting a two-day series of events looking the film work of artist Kahlil Joseph, entitled Holding Blackness in Suspension: The Films of Kahlil Joseph.
Mr. Joseph and Beyoncé were co-nominated for an Emmy award for their collaboration on Beyoncé's Lemonade. He has also made short films with some of the most respected, politically engaged and forward-thinking hip-hop artists of our time, such as Kendrick Lamar and FKA Twigs. His short film "Until the Quiet Comes," a collaboration with Flying Lotus, won a Short Film Special Jury Award at the Sundance Film Festival. He is considered one of the most influential hip-hop video directors working today.
Here is the schedule of events; all are free and open to the public:
Thursday, October 6 | 7:00pm | Kopleff Recital Hall:
Screening of selected works by Kahlil Joseph, followed by Q&A with the artist.
Friday, October 7 | 2:00pm | Creative Media Industries Institute (25 Park Place, 2nd floor)
Symposium: Holding Blackness in Suspension: The Films of Kahlil Joseph
Guest Speakers and Respondents include:
Regina Bradley (Armstrong State University, Savannah), "When the Quiet Arrives: Race, Agency, and Gender on Screen"
Derek Conrad Murray (University of California, Santa Cruz), "Bodies That Matter: Blackness, Social Symbolism and the Affective Image"
Lauren M. Cramer (Pace University, NYC), "Icons of Catastrophe: Diagramming Blackness in Until the Quiet Comes"
Gregory Zinman (Georgia Tech) on: sites and screens, from the gallery space to the online platform
Kara Keeling (University of Southern California) on: sound/image relations in Joseph's work
Friday, October 7 | 7:00 pm | Gallery 72 (72 Marietta St, Atlanta, GA 30303):
Reception featuring video projection of highlights from previous liquid blackness projects
More information about the speakers and their work can be found on the symposium website.