Why is fair use important?
This is the third post this week in a series of blogs celebrating Fair Use Week. Earlier in the week, we blogged about what fair use is and the factors that determine whether or not something is considered fair use. Today we'll learn more about why the fair use exception to copyright law is important.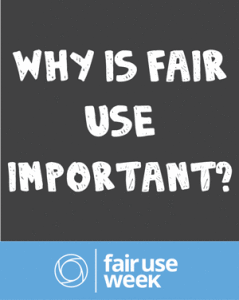 Copyright law provides exclusive rights to copyright holders that limit how others are able to use the work. Although copyright is designed to provide an economic incentive for creators, the monopoly of copyright can be detrimental to society's progress if it is not balanced. Fair use is designed to ensure that the rights of copyright holders are properly balanced with the First Amendment's freedom of expression and with the need to use copyrighted content for progress within society. Fair use can be applied under certain conditions and is determined on a case by case basis. If fair use applies, then copyrighted content may be used without payment or permission.
How can fair use help us with freedom of expression and with progress?
Students and scholars often use fair use to quote previous research in their papers and other publications. In this sense, fair use helps authors build on the knowledge in previous research.
News reporters often use fair use when they show previously created content in order to create historical context for breaking news or other current events. Documentary filmmakers may rely on fair use when including copyrighted material in their work. In this sense, fair use helps us to better understand the events of our world as they unfold around us.
Fair use is often used for commentary or criticism. Without fair use, an author or creator would need to ask permission from the copyright holder before using copyrighted content in the process of criticism, like a book or music review. Since the copyright holder would not likely want to be criticized, this type of situation could lead to censorship. Thus, when applicable, fair use often provides the opportunity for freedom of expression when commenting or criticizing the works of others.
Sometimes fair use allows new products to be developed. In the case of Authors Guild, Inc. v. Google, Inc., – F.3d -, – (2d Cir. 2015), Google's digitization of millions of books was considered fair use. By digitizing the books, Google created a search tool to search the full text of each book. One of the reasons that the court found that Google's copying was fair use is because the end product provided something new (such as the search tool itself) and did not freely provide full text copies of copyrighted books to the general public. Here's much more on why Google's use was fair.
Instances of when fair use can be applied are numerous and varied. Stanford University Libraries provides a Summaries of Fair Use Cases that includes important factors behind whether a use was considered fair.
For more info on fair use and copyright, check out the following books:
Aufderheide, P., & Jaszi, P. (2011). Reclaiming fair use: How to put balance back in copyright. Chicago ; London: The University of Chicago Press. Located on the 4th floor of Library North under the call number: KF3020 .A984 2011
Crews, K. D. (2012). Copyright law for librarians and educators: Creative strategies and practical solutions (3rd ed.). Chicago: American Library Association. Located on the 4th floor of Library North under the call number: KF2995 .C74 2012
Herman, B. D. (2013). The fight over digital rights: The politics of copyright and technology. Located in the GSU Law Library under the call number: KF3024.E44 H47 2013