Panel Discussion on Immigration
A panel discus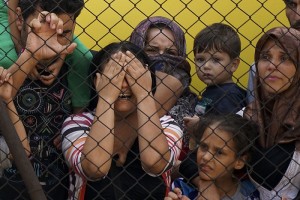 sion on how the immigration debate in the 2016 elections affects immigrants, the United States, and the world will be presented on February 24 from 12:30 to 2:00 p.m. in the Troy Moore Library (Room 2343), 25 Park Place.
Panelists include:
William Hoffman, Georgia Asylum and Refugee Network
Charles Kuck, Kuck Immigration Partners, LLC.
Adadeh Shashahani, Project South
Adelina Nichols, Georgia Latino Alliance for Human Rights
Victor Morales, student from Freedom University
Chip Carey, Georgia State University Department of Political Science
P.J. Edwards, founding member of the El Refugio Hospitality House
The discussion is sponsored by the Center for Human Rights and Democracy and the Center for Latin American and Latino/a Studies of the Global Studies Institute.
To learn more about the immigration debate, check out some of the following books from the University Library:
Fetzer, Joel S. Open borders and International Migration Policy: The Effects of Unrestricted Immigration in the United States, France, and Ireland. New York: Palgrave Macmillan, 2016.
Gans, Judith. Debates on U.S. Immigration. Thousand Oaks: SAGE Publications, 2012.
Regan, Margaret. Detained and Deported: Stories of Immigrant Families Under Fire. Boston, Massachusetts : Beacon Press, 2015.
Swain, Carol M. Debating Immigration. Cambridge: Cambridge University Press, 2007.
Wellman, Christopher Heath. Debating the Ethics of Immigration: Is There a Right to Exclude? Oxford: Oxford University Press, 2011.