Featured Faculty Publication: Histories of Social Studies and Race, 1865-2000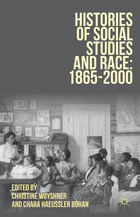 Chara Bohan, Professor in the Middle and Secondary Education department at Georgia State University is co-editor of the book, Histories of social studies and race, 1865-2000.
 As described by the publisher:
This collection of historical essays on race develops lines of inquiry into race and social studies, such as geography, history, and vocational education. Contributors focus on the ways African Americans were excluded or included in the social education curriculum and the roles that black teachers played in crafting social education curricula.
The American Education History Journal states that the book is "A necessary component for any conversations we wish to have on the intersections of race, education, and national heritage . . ."
Other works by Bohan include:
Bohan, C. H. (2004). Go to the sources: Lucy Maynard Salmon and the teaching of history. New York: P. Lang.
Bohan, C. H., & Many, J. (2011). Clinical teacher education: Reflections from an urban professional development school network. Charlotte, NC: Information Age Pub.
Conner, C. c., & Bohan, C. c. (2014). The Second World War's impact on the progressive educational movement: Assessing its role. Journal Of Social Studies Research, 38(2), 91-102. doi:10.1016/j.jssr.2013.10.003
Milson, A., Bohan, C. H., Glanzer, P., & Null, J. W. (Eds.) (2010). American educational thought: Essays from 1640-1940.  Charlotte, NC: Information Age.
Moore, C. D., Beshke, C. A., & Bohan, C. c. (2014). Simulations and games in the civics classroom. Social Studies Research & Practice, 9(2), 77-88.
Webb, R. r., & Haeussler Bohan, C. c. (2014). Red, white, and black. American Educational History Journal, 41(1/2), 145-161.