Georgia State University Library releases AfterEM plugin as Open Source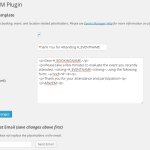 As part of its commitment to the free culture movement, Georgia State University Library is pleased to announce the initial release of the AfterEM plugin. AfterEM extends the Events Manager WordPress plugin to provide follow-up emails after an event has occurred. This additional functionality allows event organizers to gather feedback, request follow-up actions, and encourage participation in future events.
Professional development is vital to ensuring that library faculty and staff stay up-to-date on the emerging technologies, service models, and theories that impact the ever-growing world of information organization, preservation and access. Georgia State University Library takes that commitment seriously by providing a variety of professional development opportunities, coordinated internally using the Events Manager WordPress plugin. To continue providing the best professional development opportunities, the library needed a tool that would give swift feedback to ensure that our sessions were meeting library faculty and staff needs – finding none, we decided to create our own!
AfterEM is available for download from the WordPress Plugin Directory, and the source code is available on BitBucket.