New Faculty Publication: Caregiving and Care Sharing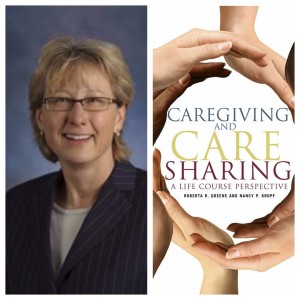 Social Work Professor Nancy Kropf and next Dean of the Byrdine F. Lewis School of Nursing and Health Professions, has co-authored a new book, Caregiving and Care Sharing: A Life Course Perspective with Dr. Roberta Green, Emerita Faculty from the University of Texas Austin. "In Caregiving and Care Sharing: A Life Course Perspective, the authors highlight the experience of providing care in several different family situations. This book not only serves as a guide to assist those caring for older adults, but also examines the experiences of older caregivers caring for younger adults, as older parents care for adult children with intellectual and psychiatric conditions, or when grandparents are raising their grandchildren. The caregiving needs of veterans are also addressed." (From the Publisher's website)
Other works by Kropf include:
Beck, Elizabeth, Terri Lewinson, and Nancy P. Kropf. "Restorative Justice With Older Adults: Mediating Trauma And Conflict In Later Life." Traumatology (2015).
Kropf, Nancy P., and Barbara L. Jones. 2014. "When Public Tragedies Happen: Community Practice Approaches in Grief, Loss, and Recovery." Journal Of Community Practice 22, no. 3: 281-298.
Lee, Minhong, and Nancy P. Kropf. 2013. "The Capacity Evaluation Screen-Social Work (CES-SW): Development of a Brief Instrument." Journal Of Social Service Research 39, no. 4: 521-529.
Greene, Roberta R., and Nancy P. Kropf. 2011. Competence : theoretical frameworks. New Brunswick, N.J. : AldineTransaction.