Speaker: African American Working Class Politics in Sunbelt Atlanta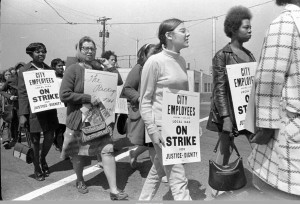 Join us in Georgia State University's Department of History for Seth LaShier's upcoming talk based on research for his in-progress dissertation, "Reimagining Work and Race: African American Working Class Politics in Sunbelt Atlanta." LaShier, a PhD candidate at George Washington University, is an awardee of the 2014 Reed Fink Award in Southern Labor History which is sponsored by the Southern Labor Archives. His research focus is on race, class, and capitalism in US History.
      DATE: Monday, May 4, 2015
      LOCATION: 25 Park Place, Room 2150 (Department of History)
      TIME: 12:30pm
LaShier's "research will investigate the politics of African American workers in Atlanta in the 1960s and 1970s. Specifically…[to] show how these workers' beliefs, values, and practices at the workplace changed and how these alterations manifested themselves politically, at the workplace and in the larger political arena.
"In recent years, historians have found class politics to be central to understanding the civil rights movement and rise of black political power in the city, as well as the rise of color-blind, meritocratic-obsessed conservatives in the Atlanta suburbs. According to these histories, the urban low-wage African American worker often represented the "other" that the white and black middle classes defined themselves against. Yet, these workers, who frequently worked in service industries, lack their own history, particularly as it relates to their changing world of work. In focusing on Atlanta's black working class in my dissertation, [LaShier] seek[s] to uncover areas of agreement and conflict, compromise and resistance over ideologies and practices of race and work that helped shape this Sunbelt city. Work and race, always closely entwined in American history, became a key point of contention over the transforming political culture and economy of this era."
The deadline to submit applications for the 2015 Reed Fink Award in Southern Labor History is May 15, 2015.