"Ac-Cent-Tchu-Ate the Positive" in National Recording Registry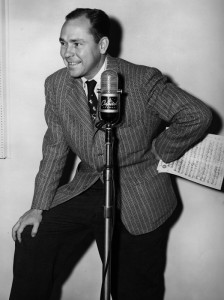 It was announced today that Johnny Mercer's "Ac-Cent-Tchu-Ate the Positive" was selected for induction into the Library of Congress National Recording Registry.  Each year 25 sound recordings are added to the registry that have been recognized for their cultural, artistic and/or historical significance to American society and the nation's audio legacy.
"Ac-Cent-Tchu-Ate the Positive" was written by Johnny Mercer and Harold Arlen in 1944 for the film Here Comes the Waves, and Mercer recorded this song for Capitol Records (of which he was a co-founder).  Within the Johnny Mercer Collection housed in the Special Collections and Archives there are numerous recordings, sheet music, documents, and awards pertaining to this song.
Questions about the Johnny Mercer Collection should be directed to Kevin Fleming, archivist, Popular Music and Culture Collection, at 404-413-2880 or archives@gsu.edu.