Presentation on Vietnam's 'Perfect Spy' by Dean Larry Berman
Dr. Larry Berman, Founding Dean of the Georgia State University Honors College, will be giving a talk on Vietnam reporter Pham Xuan An entitled 'The Perfect Spy'. The event is free, and will be held on Thursday, February 6th from 4:30pm to 6:00pm in Centennial Hall, 100 Auburn Avenue NE.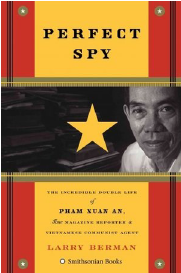 "During the Vietnam War, distinguished Time reporter Pham Xuan An befriended everyone who was anyone in Saigon, including leading American journalists such as David Halberstam, Neil Sheehan, and Stanley Karnow, who came to regard him as a trusted source and friend. But what none of An's friends knew was that he was a spy providing strategic intelligence to Hanoi, smuggling invisible ink messages out to the jungle in egg rolls and living a dangerous double life. In Perfect Spy, Larry Berman, who made more than a dozen trips to Vietnam to interview An, and whom An considered his American biographer, chronicles the extraordinary life of one of the most fascinating spies of the twentieth century and in doing so offers a new perspective on the war." (Description quoted from the session flyer.)
If you'd like to read The Perfect Spy, the University Library has a copy.
The Library also owns copies of Dr. Berman's other books, several of which focus on other prominent figures of the Vietnam War.