University Library Digitizes Research Atlanta Reports
Georgia State University Library is creating a digital collection of reports from Research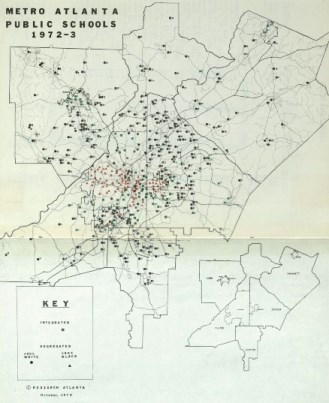 Atlanta, Inc.  We hope that this collection will serve as a significant resource for students and researchers who study current and past public policy issues faced by metropolitan Atlanta.
Research Atlanta formed in 1971 and was a non-profit organization established to study public policy issues affecting the Atlanta metropolitan area. Research Atlanta served as Atlanta's think tank for urban problems.  The group published policy studies from 1971 to 2006 on major urban issues confronted by metropolitan Atlanta and placed Atlanta's urban problems within a national context. During its 35 years of operation, Research Atlanta produced numerous public policy studies on issues ranging from public school desegregation to creating a downtown cultural district. In 1992, Georgia State University agreed to assume responsibility for operating Research Atlanta. In 2006, Research Atlanta merged with the Regional Leadership Forum and the Metro Group to form what is now the Civic League for Regional Atlanta.
Although Georgia State University Library owns many Research Atlanta reports, some gaps existed in our collection.  But, thanks to a donation of Research Atlanta reports from the Civic League for Regional Atlanta, these gaps have been largely filled and the University Library will soon provide access to what we believe will be a complete collection of Research Atlanta reports from 1971 to 2006.  This collection will also contain digitized video footage of policy debates and discussions from Research Atlanta.  In total the collection will contain close to 200 reports and 10 videos.  We will be adding reports and videos to the collection as we digitize them and by early spring 2014, we hope to have each report and video digitized.  We have already added about 50 reports to the Research Atlanta, Inc. Reports collection, so you can begin exploring the reports.  Some significant and interesting reports include School Desegregation in Metro Atlanta, 1954-1973 (1973), Which Way Atlanta? (1973), and A Cultural District for Downtown Atlanta (2000).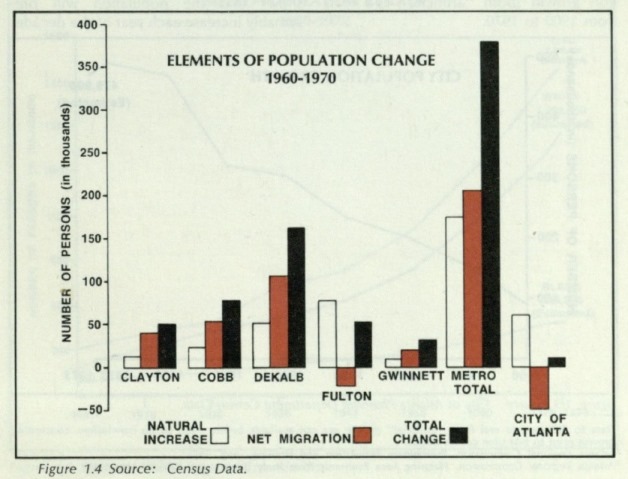 This chart from Which Way Atlanta? shows population change in 1973.  Fulton County and the City of Atlanta are shown as having significant decreases in population, while each suburban county shows substantial population growth.