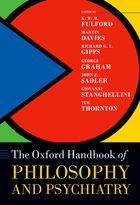 Congratulations to Dr. George Graham, Professor of Philosophy, on the publication of his co-edited book The Oxford Handbook of Philosophy and Psychiatry.  Written and edited by an international team of scholars, researchers, and practitioners, the book's 73 chapters cover all aspects of the connection between the two fields, including a variety of historical and conceptual perspectives.
From the publisher:
"The Oxford Handbook of Philosophy and Psychiatry offers the most comprehensive reference resource for this area ever published. It assembles challenging and insightful contributions from key philosophers and others to the interactive fields of philosophy and psychiatry. Each contribution is original, stimulating, thorough, and clearly and engagingly written – with no potentially significant philosophical stone left unturned. Broad in scope, the book includes coverage of several areas of philosophy, including philosophy of mind, science, and ethics."
Other books by Dr. Graham include:
The Disordered Mind. New York: Routledge, 2013.
Reconceiving Schizophrenia. Oxford: Oxford University Press, 2007
When Self-consciousness Breaks: Alien Voices and Inserted Thoughts. Cambridge, MA: MIT Press, 2000.
Philosophical Psychopathology. Cambridge, MA: MIT Press, 1994.
Philosophy of Mind: An Introduction. Oxford: Blackwell, 1993.