Middle East Institute Panel: "What's Going On In Syria?"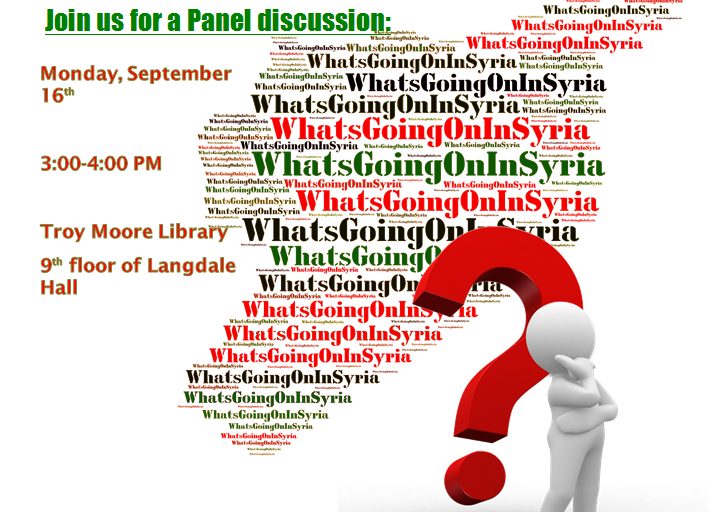 The Georgia State University Middle East Institute is sponsoring a panel discussion, "What's Going On In Syria?" on Monday, September 16, from 3:00 pm to 4:00 pm in the Troy Moore Library, 9th Floor, Langdale Hall.
The panel will be moderated by Dr. Jack Williams of the College of Law. Speakers include:
Prof. Williams teaches and does research in (among other areas), Islamic Law (Sharia); his Islamic law research has focused on the role of diversity within Islam and the treatment of violent or deviant behavior under Sharia.
Dr. Campbell is co-director of the Arabic Program at Georgia State and is currently working on a monograph on the development of the Moroccan novel in the 1960s and 1970s.
Dr. Fromherz specializes in medieval and modern Mediterranean history, with emphasis on the Almohad empire during the twelfth century and on the transformation, modernization and institutionalization of the traditional Bedouin and pearl fishing tribes of Qatar; he has recently published Ibn Khaldun: Life and Times (2010), The Almohads: The Rise of an Islamic Empire (2012), and Qatar: A Modern History (2012).
Dr. Naim specializes in comparative Politics (Middle East, South Asia), international relations, religion and politics; he is the faculty advisor for Model United Nations and Model Arab League.
Dr. Jarmakani specializes in Orientalist representations in U.S. popular culture, transnational feminisms, Arab American studies, Arab and Islamic feminisms, cultural studies, representation and the body. She has published Imagining Arab Womanhood: The Cultural Mythology of Veils, Harems, and Belly Dancers in the US (2008) and has a book forthcoming on "desert romances," romance novels set in the Middle East.
For more information about this panel, please contact lthomas1@gsu.edu or call (404) 413-6145.