Jason Lesandrini Named Religion and Public Life Fellow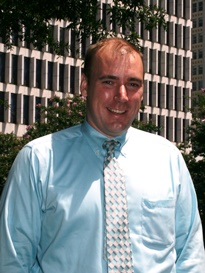 The Department of Religious Studies is pleased to announce the 2013-14 Religion and Public Life Fellow: Jason Lesandrini.
Mr. Lesandrini is the Ethicist at Grady Health System where his role involves clinical ethics consultation, ethics-based organizational policy analysis, ethics infrastructure development and support, and ongoing ethics education and programming. His academic background is in health care ethics and philosophy. He holds a Master's degree in Philosophy from Georgia State University and a Bachelor's in Philosophy from Michigan State University, and he will soon receive his Doctorate in Health Care Ethics from St. Louis University. His research interests include decision making for incapacitated patients, ethics at the end-of-life, health care resource allocation, and the work of ethics resources in clinical and organizational ethics.
The Religion and Public Life Fellow is an Atlanta-based high-profile professional who joins the Department for one academic year. This professional–who works in the media, politics, the corporate world, the arts, or a non-profit organization–will explore how religion plays a role in his or her profession.
Interested in learning more about the intersection of religion and medical ethics? The following are just a few of the books you will find in the University Library:
Greenstreet, Wendy. Integrating Spirituality in Health and Social Care: Perspectives and Practical Approaches. Oxford: Radcliffe, 2006.
Hanford, Jack Tyrus. Bioethics from a Faith Perspective: Ethics in Health Care in for the Twenty-first Century. New York: Haworth Pastoral Press, 2002.
Hanson, Mark J. Claiming Power Over Life: Religion and Biotechnology Policy. DC: Georgetown University Press, 2001.
Hollins, Susan. Religions, Culture and Healthcare: A Practical Handbook for use in Healthcare Environments. Oxford: Radcliffe, 2006.
Smith, David H. Caring Well: Religion, Narrative, and Health Care Ethics. Louisville: Westminster John Knox Press, 2000.
Veatch, Robert M. Hippocratic, Religious, and Secular Medical Ethics: The Points of Conflict. DC: George Washington University Press, 2012.
Verhey, Allen. Religion and Medical Ethics: Looking Back, Looking Forward. Grand Rapids: W.B. Eermands, 1996.