DOE DIALOGUES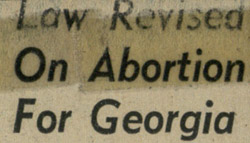 The Georgia Women's Movement Project Spring Event is held annually to highlight collections in the Georgia State University Library Women and Gender Collections, and to celebrate the lives of the unsung heroines of the women's movement in Georgia.
2013 marks the 40th anniversary of the landmark Supreme Court case, Roe v. Wade and its sister case, Doe v. Bolton. We would like to take this opportunity to celebrate Georgia's Doe v. Bolton by hosting a discussion of the case and its background.
Thursday, April 18, 5:30-7:00 pm
Special Collections And Archives
University Library South, 8th Floor
100 Decatur St. SE
Atlanta, GA 30303
Register for event
or RSVP to mgerrard@gsu.edu / (404) 413-2888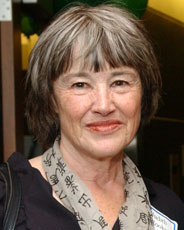 Judith Rooks
Judith Rooks earned a B.S. in Nursing at University of Washington in 1963. She married after graduation and then moved to Washington, D.C. where, in 1964, she began working as a nurse at the Clinical Center (part of the National Institute of Health). While her husband served in Vietnam, Rooks earned a master's degree in nursing at the Catholic University of America. Then, after moving to California, she taught nursing at San Jose State College and volunteered as a nurse in San Francisco's Haight Ashbury Free Medical Center during the weekends. After moving to Atlanta in 1969, Rooks became involved in Georgia Citizens for Hospital Abortions, which fought to change Georgia's "reformed" abortion law further. In 1970, Rooks was brought into the epidemiology training program at CDC (Center for Disease Control), where she worked in the Family Planning Evaluation Division.   Research done by her colleagues at CDC was used to support the plaintiff's brief when Doe v. Bolton challenged Georgia's abortion law in the United States Federal District Court in Atlanta, and later in the United States Supreme Court.
Rooks continued to work as an epidemiologist and public health professional in various positions, became a midwife, and in 1989 published the landmark National Birth Center Study in the New England Journal of Medicine.  She has published more than 60 research and policy papers about family planning, women's health, and midwifery, and has received numerous honorary awards.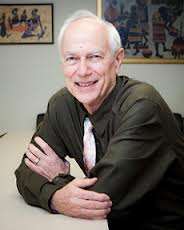 Roger Rochat
Dr Roger Rochat completed his residency at Charity Hospital in New Orleans. He transferred to CDC's Family Planning Evaluation Activity and the Georgia Health Department. One of his first tasks in Georgia was to determine whether the new state law legalizing abortion would reduce maternal mortality. Because of continuing discriminatory access to services, it would not. A lawyer cited this social inequity in Doe v. Bolton, the Supreme Court case from Georgia that was decided concurrently with Roe v. Wade. Dr. Rochat became the first Director of the Division of Reproductive Health for the CDC in 1981. He developed the Global Health Track, and spent six years developing Maternal and Child Health epidemiology in the Georgia Health Department. After 30 years with CDC, working in 30+ countries and with many State Health Departments, he retired from CDC in 1999, went with his brother briefly to Antarctica, and then joined the Rollins School of Public Health where he focused on Epidemiology and Global Health.
The Women and Gender Collections
Established in 1995, the Georgia State University Women and Gender Collections document the experiences of women active in the second wave of the women's movement, in particular their efforts to ratify the Equal Rights Amendment in Georgia. It also chronicles women and men participating in women and LGBTQ-centered activism and advocacy in Georgia and the Southeast. In addition, the collection highlights Georgia State University faculty, staff and students involved in feminist activities, including the development of continuing education and academic classes in women's studies and the establishment of the Women's Studies Institute.