Little-Known and Unappreciated Facts about GSU History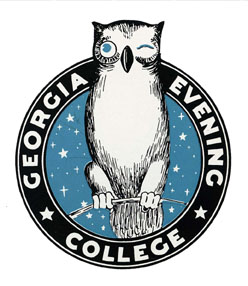 It is well known that Georgia State University traces its origins to the Georgia School of Technology's Evening School of Commerce.  Nighttime classes appealed to workers in Atlanta's central business district who wanted to further their careers and skills.
But did you know that …
•     Funding for the school in its first years was not financed by Georgia Tech but by Atlanta businessmen and Tech alumni.
•     The Evening School of Commerce graduated its first female student before the Georgia legislature made it legal to admit women (Georgia Tech was all male at this time).
•     The first student newspaper was called the Technite.  Georgia Tech's newspaper was (and still is) the Technique.
•     The first yearbook was called the Nocturne.
•     Basketball was one of the first (if not the first) competitive sport.
•     The first class for Tech's new School of Commerce was held in 1913 on campus in the Chemistry Building.  The next year–1914–evening classes moved to downtown Atlanta.  Day classes stayed on the Tech campus, and the Evening School remained in downtown Atlanta, moving frequently from one location to another.
•     In course bulletins, yearbooks, and the school newspaper, early leaders and students state that the Evening School was "established in 1914."  It was only in later years that the date of creation was changed to 1913.
Intrigued?  Explore:
1.  "Georgia State University History" on the University Archives website.
2.  Merl E. Reed.  Educating the Urban New South:  Atlanta and the Rise of Georgia State University, 1913-1969.
3.  David Smith, Jr.  Georgia State University:  An Institutional History, 1913-2002.