Internship Opportunity for Female Computer Scientists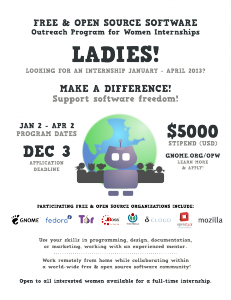 Interested in open source software?  Consider applying for the FOSS Outreach Program for Women.  This program offers $5000 for 3 months of remote work on a specific software project.  Projects include Mozilla, OpenStack, Fedora and more.  This initiative is organized by the Gnome Foundation and supported by the Wikimedia Foundation.  Further information is available on either site but act quickly as the deadline for applications is December 3.
To learn more check out these recent publications, available in full-text through the GSU Library:
Morelli, R., Danner, N., De Lanerolle, T.R., Ellis, H.C., Izmirli, O., & … Parker, G. (2009). Revitalizing Computing Education Through Free and Open Source Software for Humanity. Communications Of The ACM, 52(8), 67-75.
Rashid, R. (2008). Inspiring a New Generation of Computer Scientists. Communications Of The ACM, 51(7), 33-34.
Wallace, P. (2007). Using Collaboration to Provide Students with an Internship Experience in an Information Systems Course. Journal Of Information Systems Education, 18(2), 145-148.