When Tutorials Go Bad, Sarah Dyne–12pm Friday, November 9th — Troy Moore Library, 9th Floor General Classroom Building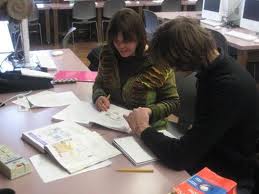 The interaction between tutors and students in most cases is usually a great reciprocal relationship. However, occasionally the tutorial session can go wrong, due to a variety of time-related, interpersonal, and interest factors. This presentation will focus on the best ways for tutors to handle difficult situations and provide tutors with strategies for salvaging those sessions that go wrong. Resources from the Library Catalog on tutoring include the following: Before and after the tutorial; A tutor's guide; and Working with student writers.
Sarah Dyne earned a B.A. in English from Francis Marion University in Florence, SC.  After finishing her M.A. in Literary Studies at Georgia State University, she will pursue a Ph.D. Her research interests include Irish studies, theatre, and Modernism. She currently teaches composition at Georgia State and has been an active tutor for over seven years. In her free time, Sarah enjoys painting, cooking, and traveling with her husband and their dachshunds Atticus and Loki.