Research Clinics for Midterms
Throughout the year, the Library offers a series of convenient workshops and tutorials to help you succeed.  However, during midterms , we offer a special series – Midpoint Research Clinics.  All of these sessions will be in Classroom 1. Just bring your paper and questions ready for one-on-one research assistance!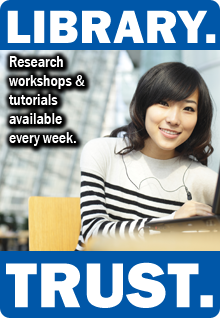 Remember to register early – space is limited!
Monday, Oct 1, 2012: Midpoint Research Clinic, 10AM
Monday, Oct 1, 2012: Midpoint Research Clinic, 3PM
Tuesday, Oct 2, 2012: MidPoint Research Clinics, 1PM
Wednesday, Oct 3, 2012: Midpoint Research Clinic, 11AM
Wednesday, Oct 3, 2012: Midpoint Research Clinic, 4PM
Thursday, Oct 4, 2012: MidPoint Research Clinics, 12PM
Friday, Oct 5, 2012: Midpoint Research Clinic, 12PM