Scavenger Hunt In The Library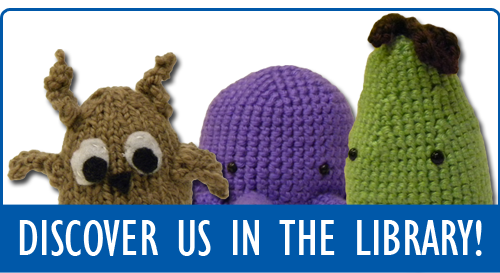 Update 6/14/12: The next clue will be released on Twitter and Facebook on Monday, June 18 at 10:00 a.m.!
Follow the clues, find the prizes and learn your way around the library while you're at it! To celebrate the beginning of summer semester, the Georgia State University Library is hosting several scavenger hunts beginning Tuesday, June 12.
When we surveyed students last year, over 57% said they would follow us on social media if they could earn rewards. Well we're taking your suggestion to heart and trying a social media game at the library. By following clues we'll release on Twitter and Facebook you'll be able to discover hand-made, knitted art in our buildings.
How does it work?
First, you need to follow us on Twitter and like our page on Facebook. At 10:00 a.m. on Tuesday, June 12 we'll post a clue as to the location of the first prize. By using our catalog and your library skills you can find the prize before anyone else!
If you arrive after the prize has already been claimed, don't worry! There will be several second prizes available there as well. When you find one, let us know on Twitter or Facebook!
Don't know how to use Discover or our catalog? Watch our short tutorials here to boost your library skills so you've got an edge on the competition!