Sanford Bederman Research Award Shows Student Skill & Creativity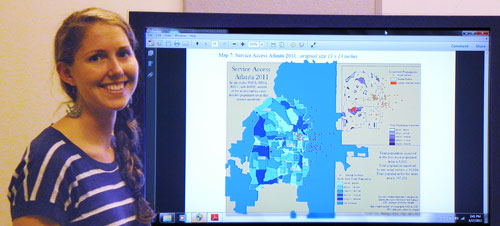 Many Georgia State graduate students show considerable skill and creativity in their application of library and geographic information resources, creating everything from maps for social services in Atlanta to guides for environmental and agricultural decision making in Egypt. Georgia State University Library recognizes these students with the Sanford Bederman Research Award. While only one student won the 2012 award, the research of a second applicant was so impressive that the award committee granted him an Honorable Mention.
Cheryl Case is the first student to win the award. Case is a Graduate Research Assistant with Community Engagement Outreach Care through the Center for Excellence for Health Disparities Research at the Georgia State University Institute of Public Health. Originally, Case set out to create a community research guide for Atlantans looking for social service assistance, housing, financial aid or just a hot meal. Along with Jack Reed in the Department of Geosciences, Case created maps to show people where to access these services. She discovered gaps where such services weren't available and decided to use the research data for her paper "Served or Unserved? A Site-Suitability Analysis of Social Services in Atlanta, Georgia Using Geographic Information Systems." According to Case:
This paper communicates that while 8.5% of the population was underserved by social services as a whole, when examined more closely the range of access depending on the specific social service was between 11-14% of the population being unserved. The services that were least accessible leaving almost 14% of the population with limited access to shelters, food and clothing services, legal services, employment and training services, and prisoner reentry services.

Honorable Mention went to Semir Sarajlic, whose research goal was to discover the implications of introducing water into the Egyptian desert. His paper, "Land Cover Change and Mineral Composite Assessment of Tushka Depression, in Egypt, Using Remote Sensing and GIS" examined what water diverted from a Lake Nasser spillway would do to the mineral composition of the area.
Sarajlic primarily relied on research in the International Journal of Remote Sensing. "Everything's at your fingertips," he said, noting that in lieu of library budget cuts and journal cancellations he was still able to successfully complete his research. In addition Sarajlic used the Visualization Wall at the Petit Science Center to improve his analysis. Being able to view data on these large high-resolution screens actually allowed him to reduce the margin of error in his findings. Sarajlic's article was published in the March/April 2012 issue of The Professional Geologist.
Congratulations to both Cheryl Case and Semir Sarajlic for their excellent research!