Recent Faculty Publication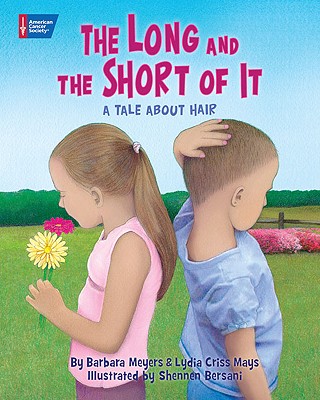 Congratulations to Dr. Barbara Meyers and Dr. Lydia Mays for their recent children's book, The Long and the Short of It: A Tale About Hair. The book won two important awards including a Mom's Choice award and a National Health Information Award.
This story reveals lessons about cancer related hair loss, friendship, generosity, patience, and much more. A wonderful and moving addition to children's literature, this children's tale is as helpful for adults as it is for children. At the end of the story, a list of concepts with corresponding page numbers is provided as a guide to encourage communication between adults and children.  Activities for children are also included.
Find out more about the book in this video featuring the authors.
Dr. Barbara Meyers and Dr. Lydia Mays have contributed many other publications available in the library.  A few of their scholarly endeavors are highlighted below:
Mays, L. (2008). The Cultural Divide of Discourse: Understanding How English-Language Learners' Primary Discourse Influences Acquisition of Literacy. The Reading Teacher, 61 (5), 415-418.
Mays, L. "Linking Theory to Practice: Understanding How Two Reading Recovery Teachers' Reflections Inform their Teaching Practices" (2009). Early Childhood Education Dissertations. Paper 9.
Meyers, J., Roach, A.T. & Meyers, B. (2009). Engaging in the Debate: A Critique of Blueprint III. Journal Of Educational & Psychological Consultation, 19(3), 197-223. doi:10.1080/10474410903117239
Swars, S. L., Meyers, B., Mays, L.C., & Lack, B. (2009). A two-dimensional model of teacher retention and mobility: classroom teachers and their university partners take a closer at a vexing problem. Journal of Teacher Education, 60, 168-182.
Varjas, K., Meyers, J., Meyers, B., Kim, S., Henrich, C. C., & Subbiah, L. (2009). Positive Psychology and the prevention of school-based victimization. In The Handbook of Positive Psychology. R. Gilman, E. S. Huebner, & M. J. Furlong (Eds.). NY: Routledge. Chapter 24 (pp. 323-338).