African American Politicians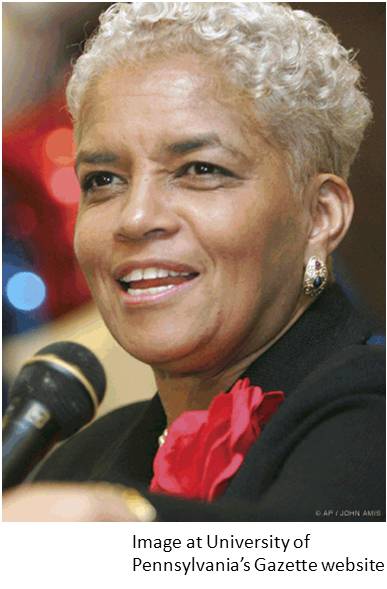 This year the theme for African American History Month is "Black Women in American Culture and History," and with 2012 also being an election year (Just in case you missed that!) this February we should reflect upon the significant contributions made by African American women in the political arena.
Atlanta's own Shirley Franklin, with her breadth of experiences – from college instructor to Atlanta's Chief Administrative Officer to Mayor of Atlanta in 2002, coupled with her commitment to public service, is a remarkable women.  Read what her alma mater, the University of Pennsylvania, wrote about Ms. Franklin and her life.
Of course there have been many extraordinary African-American women politicians, discover more about their contributions by exploring some of the terrific exhibits and resources that are available, such as:
The Library's own Georgia Government Documents Collection, which includes a series on Women in the Legislature. Here you can find information on, among others, Betty Jean Clark who served in the Georgia House of Representatives from 1973 to 1991. For other resources on Atlanta Government, there is a research guide.
New to the Library collection is: Remembering the power of words: the life of an Oregon activist, legislator, and community leader by Avel Louise Gordly. Ms. Gordly was the first African-American women elected to the Oregon State Senate.
And the Library also has: Black Americans in Congress, 1870-2007, which profiles African Americans who have served in the United States Congress. This includes notable women such as Shirley Chisholm and Cardiss Collins.
Just down the street is the Auburn Avenue Research Library on African American culture and History.  And not to be overlooked, an impressive website sponsored by several agencies including the Library of Congress and the National Archives which pays tribute to African Americans.