Mobile Group Study Room Reservations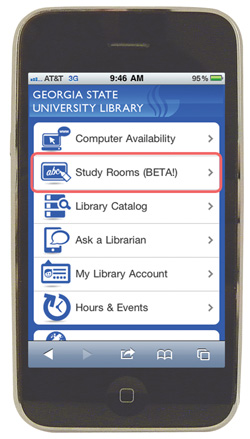 Since we launched our mobile web site, the ability to reserve group study rooms there has been the most requested new service. This is understandable, since group study rooms are the library's most popular service and sometimes you need to reserve them at the last minute.
Now Georgia State University Library's mobile website has a study room reservation system available for your convenience. Go to library.gsu.edu from your mobile device and select Study Rooms. You can login to the system with your CampusID and password. It allows you to book rooms on the half hour, with a capacity of 3 to 10 people.
In some cases the desktop version is still necessary. For instance, a desktop is required to reserve a specific room (such as a presentation practice room). It's also needed if you want to make reservations further than one week in the future.