Have your two minutes of fame reading a dangerous book for a YouTube video – participate in the Banned Books Week Virtual Read-Out!

Banned Books Week (September 24 – October 1 this year) turns a spotlight on attempts to censor books in libraries, schools, and bookstores around the U.S.  This year, you can show your support for the "freedom to read" by posting a video of yourself reading excerpts from a banned or challenged book to a dedicated YouTube channel.  Here's how: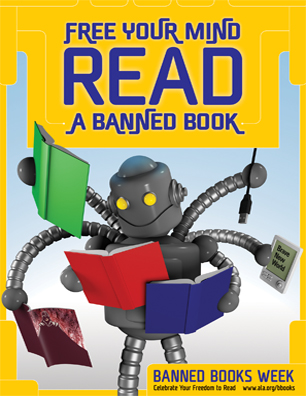 Curious to learn more about the history of book censorship? Here are some other library resources to explore:
Various books on the role of libraries in opposition to censorship.
An article exploring U.S. public opinion from 1976 to 2006 regarding removing racist books from public libraries.