New Group Study Room System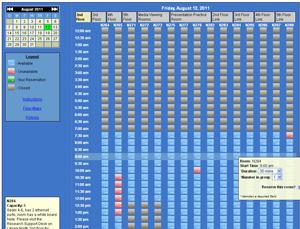 The library has launched a new reservation system for the Group Study Rooms. The new system is based on software developed by Ball State University Libraries. This system has features that make it easier to use.  Some of the features included are:
a color-coded legend which makes it easier to find available rooms.
room categories (such as Media Viewing Rooms or Practice Presentation Room) which allow users to more easily find specialized rooms.
ability to reserve the tutoring rooms (N271, N272, N273) when they're not reserved for tutors.
We no longer have walk-in, first-come rooms on the second floor link, which adds six more rooms to room availability.
For more information, please visit the Group Study Room Policy.  You can find the Group Study Room Reservation System from the library's homepage (www.library.gsu.edu) by selecting "Services" then "Study Rooms."