And the winners are…
in the Department of Criminal Justice –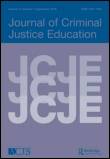 The Journal of Criminal Justice Education is an official publication of the Academy of  Criminal Justice Sciences (ACJS).
The March issue of Journal of Criminal Justice Education is a special issue examining scholarship in the field of Criminal Justice. Articles look at the elite journals as well as the top academic stars in criminology. Mentioned throughout are several faculty members from Georgia State's Criminal Justice Department. Leah Daigle was listed as second for elite publications and eighth for total number of citations (See also: 17 March 11 Posting).  Brian Payne was sixth in the category of "most prolific sole and lead authors in Criminology" for the years 2000-2009 (See also: 16 May 11 Posting). Faculty members Timothy Brezina and Barbara Warner were also identified for their prolific and excellent scholarship.
Congratulations to all who were mentioned as well as to the entire Department for their outstanding professional contributions.