Muslim American Women Speak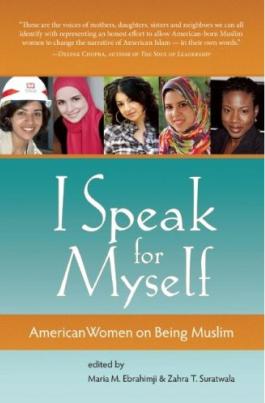 Please join the Middle East Institute of Georgia State University for an intriguing program entitled  "Muslim American Women Speak: Our National Identities Are Not At Odds With One Another."   The speakers for the program are contributors to the book I Speak for Myself: American Women on Being Muslim, which will be published by White Cloud Press in May, 2011.
In this book "40 American women share their experiences as Muslim women in America. While their commonality is faith and citizenship, their voices and their messages are very different. Readers of I Speak for Myself are presented with a kaleidoscope of stories, artfully woven together around the central idea of limitlessness and individuality. Each woman uniquely defies labeling, simply by defining for herself what it means to be American, Muslim, and female. Each personal story is a contribution to the larger narrative of life stories and life work of a new generation of Muslim women."
The event is free and open to the public and will be held in the Troy Moore Library on Tuesday, April 19 on the 9th Floor of the General Classroom Building at Georgia State University, from 12:00 – 1:30 PM.
Want to learn more? The following are just a few of the books available in the library on this topic:
Abdul-Ghafur, Saleemah, ed. Living Islam Out Loud: American Muslim Women Speak. Boston: Beacon Press, 2005.
Bullock, Katherine, ed. Muslim Women Activists in North America: Speaking for Ourselves. Austin: University of Texas Press, 2005.
Haddad, Yvonne Yazbeck, Jane I. Smith, and Kathleen M. Moore. Muslim Women in America: The challenge of Islamic Identity Today. New York: Oxford University Press, 2006.
Karim, Jamillah. American Muslim Women: Negotiating Race, Class, and Gender Within the Ummah. New York: New York University Press, 2009.