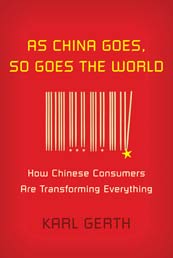 Karl Gerth will speak on China's economic transformation and the resulting impact on Chinese consumers during a talk at Georgia State University at 3:00 PM April 18.
Dr. Gerth is an expert on Chinese consumerism and an historian at Oxford University. His most recent book, As China Goes, So Goes The World: How Chinese Consumers Are Transforming Everything considers the changes that are occurring now in the Chinese economy and the effects those may have. Both this book and Dr. Gerth's previous work, China made: consumer culture and the creation of the  nation are available for borrowing through through the GSU Library.
Dr. Gerth's talk is sponsored by the GSU Confucius Institute, the Asian Studies Center and the World Affairs Council.  The event is free and open to the public.