Kennedy, Kalin film at Southern Labor Archives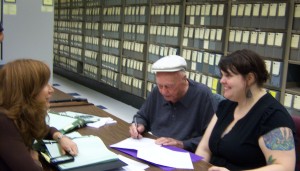 On Thursday, October 28, author and human rights activist Stetson Kennedy visited Georgia State University Library's Southern Labor Archives with documentary filmmaker Andrea Kalin.
Kennedy donated his papers to the Southern Labor Archives in 1979. The papers include material on unionization, civil rights, and socio-economic-political progress in the South during the Great Depression and World War II. They also include information about Kennedy's infiltration of the Ku Klux Klan in Georgia in the 1940s.
Kennedy, who recently turned 94, will be the subject of Kalin's upcoming documentary, which is currently in production. They wanted to spend time at the archives so that Kennedy could view his papers and reminisce about his experiences in Georgia and elsewhere. Kalin, with assistants Mark Moormann and Brian Bayerl, filmed for a little over two hours while Kennedy reviewed articles, correspondence, and photographs.
For more information about Stetson Kennedy's life and work, please consult:
The Stetson Kennedy Papers, 1933-1981.
Southern Exposure, Stetson Kennedy, 1946.
Palmetto Country, Stetson Kennedy, c.1942.
I rode with the Ku Klux Klan, Stetson Kennedy, 1954.
Jim Crow Guide to the U. S. A., Stetson Kennedy, 1959.
Stetson Kennedy: the "naturalist" conservatism of a southern radical, Thomas Ralph Peters, 1983
Plus other titles, and the Stetson Kennedy official website.
Questions about the Kennedy Papers should be directed to Traci Drummond, archivist for the Southern Labor Archives (archives@gsu.edu or 404.413.2880).